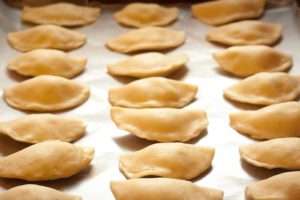 Varenyky (or perogies) are a traditional meal often made for special occasions including Easter and Christmas. With the holidays approaching, you shouldn't have to sacrifice indulgences for your special dietary needs. This gluten-free varenyky recipe includes a great alternative to the dough, and can be made dairy-free if preferred.
Dough:
1 ¼ cup brown rice flour
½ cup potato starch
¼ cup tapioca flour
2 ½ tsp. xanthan gum
1 Tbs. vegetable oil
½ tsp. salt
½ + cup water
Mashed Potato Filling:
5 Russet potatoes
2 Tbsp. butter (or olive oil, if making dairy-free)
½ tsp. salt
Directions:
Peel potatoes and cut into quarters. Bring a medium pot of water to boil, add potato cubes and boil for about 20 minutes until potatoes are soft. Drain and add the salt and butter (or olive oil) to the potatoes. Mash until smooth.
Sift the dry ingredients together (brown rice flour, potato starch, tapioca flour, xanthan gum, salt).
Add oil and water to the dry ingredients. Stir and knead the dough into a ball. Make sure it is not dry! You may need to add a little more water – if so, add it slowly.
Cover, and refrigerate for 30 minutes.
Lightly dust a board or countertop with potato starch and roll the dough out to 1/8 of an inch thick.
Using the top edge of a cup or glass (or round cookie cutter), form rounds in the rolled out dough. Into each round, place about 1½ tsp. of the mashed potato filling. Flip one side of the dough over towards the other, closing the potato filling. Pinch together the edges to close the perogie. If not closing properly, wet the edges or use a fork to pinch.
Fill a medium pot with water and add ½ tsp of salt. Bring to a boil, and add perogies in one at a time. Boil for 7-10 minutes until the dough is soft. Remove the perogies from the water and drain. Enjoy!