By Orest Szczurko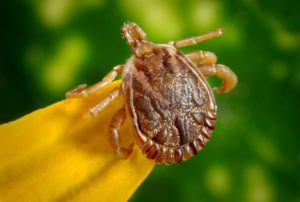 Lately we have seen a significant increase in patients with severe symptoms of Lyme disease in our clinic. Public Health Ontario has also been tracking a steady increase in the number of cases of Lyme disease. In Toronto, high populations of the ticks that carry Lyme disease have been found at the Toronto Islands and in the Rouge Valley. Throughout Southern Ontario the risk areas for Lyme disease include Pinery Provincial Park, Point Pelee, Rondeau, Turkey and Long Point Provincial Parks, the Niagara Region, and much of eastern Ontario, from south of Peterborough through Kingston to Ottawa and Cornwall. (see graphic here).  These are areas many of our Mississauga patients often visit to camp, hike, beach and enjoy.
Lyme disease is an infection passed to humans through the bite of an infected tick. There are several types of Borellia bacterium that cause the disease, but there are also several bacterial and viral coinfections such as Bartonella, Babesia, Cytomegalo virus (CMV), Ehrlichia, Epstein-Barr and other viruses that can compound the symptoms. The symptoms of Lyme include: lack of concentration/memory problems, painful joints, painful muscles, fibromyalgia, chronic fatigue, heart problems/disturbance of the cardiac rhythm, headache, dizziness, swollen lymph nodes, shivering, chill, blurred/foggy thinking, nausea, flu like symptoms, stretch marks or rashes on the skin, pain at the bottom of the feet, and several others. A Lyme symptom checklist can be downloaded here.
More tests are becoming available for Lyme, although none are 100% specific or sensitive. Testing often misses Lyme and coinfections. Thus our initial assessment always focuses on patients' current and past symptoms, followed by a thorough history and physical exam, with testing only done to confirm our suspicions.
Naturopathic medicine as practiced at our clinic can be very helpful. The approach is first to strengthen the body's detoxification and elimination pathways, then to strengthen the immune system and remove the pathogens.  The first step is critical, as it is very often the body's inability to remove wastes that amplifies the sickness causing side effects. This can be much aggravated if the initial treatment is to kill the infection. The enabling of detoxification is done on a patient by patient basis, but can involve diet, supplementation focusing on liver, kidney or lymphatic elimination, or with more aggressive therapies such as massage, osteopathy, colonics, or intravenous therapies such as glutathione and vitamin C.
Only after the Lyme die-off can be eliminated, do we work on eliminating the Borellia/Lyme and its coinfections. This is done by strengthening the immune system by eliminating factors that can weaken it (food, inappropriate sleep, lifestyle, stress, thyroid and other hormone balancing) and by nourishment (with food and nutrients). The Lyme and coinfections are then attacked with oral herbal and nutraceutical preparations, and in some cases intravenous preparations.
Our clinic is a Lyme literate naturopathic clinic in central Mississauga, that applies the most recent treatment approaches to the treatment of Lyme disease and coinfections, including the teachings of ILADS, Dr. Marie Matheson, and numerous other NDs and MDs we have learned from.