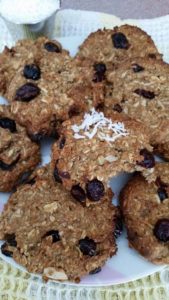 by Viktoriya Zabigaylo
Gluten-free
Dairy-free
Egg-free
Soy-free                  
Makes: 8 cookies (3 inches in diameter)
Dry Ingredients:
½ cup ground oatmeal
½ cup oatmeal (not instant or quick-cooking)
¼ cup coconut flour
1/3 cup shredded coconut
1 tsp cinnamon
Pinch salt
½ tsp baking powder
½ tsp xanthan gum
Wet Ingredients:

1 roasted banana
2 tbsp sunflower butter (or almond or peanut butter)
4 tbsp coconut sugar
5 tbsp agave nectar (or honey)
1 tsp vanilla
1 flax egg (1 tsp ground chia and flax seeds + 3 tbsp water)
1 tbsp Earth Balance Soy-free Spread
1 tbsp dairy-free milk of choice
Additions (optional):

Sunflower seeds
Pumpkin seeds
Dark chocolate chips
Dried cranberries
Raisins
Directions:
Sift together the dry ingredients.
Roast a ripe banana in the oven or toaster oven for 5 mins @ 325⁰F.
Prepare the flax egg (1 tsp ground chia and flax seeds + 3 tbsp water) in a small glass and allow it to sit for at least 5 mins until the mixture becomes gel-like.
Once the banana is ready, add to a separate mixing bowl and mix together with the flax egg and the remaining wet ingredients. Use a hand mixer (or Magic Bullet) to blend the mixture until smooth.
Combine the wet and dry ingredients, and mix with a fork. Sift together any optional additions in desired amount.
Line a baking pan with parchment paper (lightly oiled with coconut oil).
Use a heaping tablespoon of the mixture to form each cookie, about 2.5-3 inches in diameter.
Place into the oven and bake @ 375⁰F for 15-16 mins, until edges are brown.